Home
1908 College Football National Championship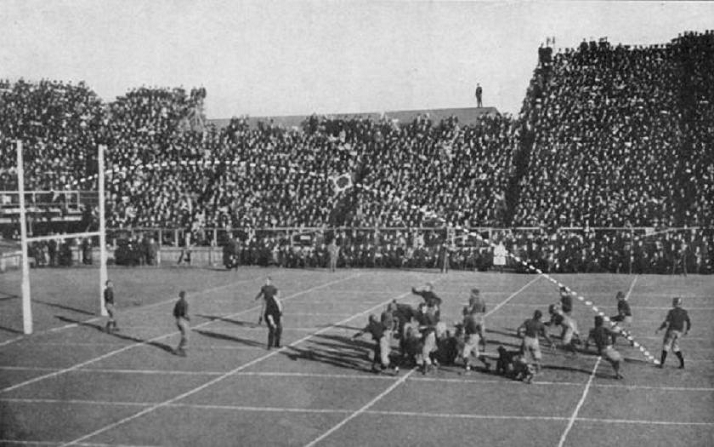 Pictured above is Harvard substitute Vic Kennard's field goal that beat Yale 4-0. The photo comes from the 1916 book

Football Days

by William Edwards, in which the trajectory of the winning kick was helpfully illustrated, the ball circled in the middle.

1908 brings us back to multiple contenders for the national championship, and not just from the East this time. But leading the way were Eastern titans 9-0-1 Harvard and 11-0-1 Penn. They were considered to be co-champions at the time, but if there had been an AP poll, Harvard would have been #1 by a comfortable margin. Strangely, though, retroactive selectors have
almost unanimously
chosen Penn as national champion rather than Harvard.


Here is how the "major selectors" listed in the NCAA Records Book, all selecting long after the fact, see the 1908 college football national championship (omitting math/computer ratings, which neither I nor anyone else recognize as constituting titles)

:


Pennsylvania

:

Helms,
Parke Davis
, National Championship Foundation (tie)
Louisiana State

:

National Championship Foundation (tie)

You can click on the selector to read my review of that person or organization.

The National Championship Foundation's selection of 10-0 Louisiana State to share the title with Penn (but not Harvard) is, as the kids say,

wack

. Or were they saying that last decade? In any case, I'll be discussing LSU below.

Western champion Chicago, at 5-0-1, gets no national championship love from anyone, but they are a stronger contender than LSU, so I will be discussing them also.
All rankings in the following article, except as noted, come from my 1908 top 25, which is based on a hypothetical AP poll (within logical reason of course)
.

Harvard 1908
| | | |
| --- | --- | --- |
| Bowdoin (5-4) | 5-0 | |
| Maine (3-4) | 16-0 | |
| Bates (4-4) | 18-0 | |
| Williams | 10-0 | |
| Springfield (3-4-1) | 44-0 | |
| at Navy (9-2-1) | 6-6 | #8 |
| Brown (5-3-1) | 6-2 | #12 |
| Carlisle (10-2-1) | 17-0 | #6 |
| Dartmouth (6-1-1) | 6-0 | #7 |
| at Yale (7-1-1) | 4-0 | #3 |
This was the first season of a tremendous 9 year stint for hall of famer Percy Haughton as head coach at Harvard. Through 1916 he went 71-7-5, including an unbeaten 30-0-3 stretch 1911-1915, and Harvard lays claim to 4 national championships during Haughton's reign. With stops at Cornell and Columbia, Haughton was 96-17-6 overall, placing him highly on the all-time FBS coaching win percentage chart (many modern sources give Haughton 1 more win in his career

;

details on why I and the NCAA do not count that game in the Addendum at the end of this article).

Harvard featured 3 consensus All Americans this season

:

center Charles Nourse,
halfback Hamilton Corbett, and tackle Hamilton Fish. A hall of famer, Fish would repeat as consensus AA in '09, and was named to Walter Camp's 1923 all-time team. He represented New York as a congressman for 25 years.

Captain and guard Francis Burr had been consensus AA in 1905 and '06, and tackle Robert McKay would be consensus AA in 1910. A further two players were nonconsensus AA in 1908.

Harvard's Season
Harvard
shut out their initial slate of 5 patsies, and although their opening 5-0 win over Bowdoin may look like it was a struggle, it was not. Harvard treated this like a practice game, but Bowdoin advanced no threats, and Harvard won easily despite scoring only one touchdown (two more touchdowns were negated by penalty).

Harvard only gave up 8 points on the season, but 6 of those points were critical, costing them a 6-6 tie at Navy (9-2-1, #8). Still, they were lucky to salvage the tie, as Nourse returned a midfield fumble for a touchdown in the second half to secure that much. Navy's touchdown came early in the game. They returned a punt from midfield to the Harvard 35, then hit 2 passes for 12 and 23 yards for the score. They later drove to the Harvard 17, but missed a field goal by mere inches. Harvard's offense mounted 2 drives past the Navy 15, but got no points from them.

Harvard also scored just one touchdown in each of 2 home wins over 5-3-1 Brown (#12) and 6-1-1 Dartmouth (#7). Francis Burr was out for the Brown game, but while Harvard only won 6-2, they dominated the game. They broke a scoreless tie in the second half with a 75 yard touchdown drive, and had the ball first down at the Brown 5 when time was called. The Dartmouth game was also scoreless at the half, and also broken open by a long Harvard drive in the second (88 yards). Dartmouth's closest threat was a missed 18 yard field goal. They were outrushed by Harvard 337-163, but Dartmouth vastly outpunted them, so it was a more evenly played game than Harvard-Brown.

Obviously Harvard was no offensive machine, and in fact they only scored more than 6 points in one of their 5 games against major opponents. But that was a big one, a 17-0 win over 10-2-1 Carlisle (#6), a team that featured Jim Thorpe and that defeated 6 rated or near-rated teams, as well as tying 11-0-1 Penn, and all on the road. This was by far Harvard's most impressive outcome.

Harvard at Yale
The game of the year was 8-0-1 Harvard at 7-0-1 Yale (#3), a mythical national championship (MNC) on the line, even if shared with 11-0-1 Penn. Since Yale would go on to win the MNC in 1909, and had won 3 in a row 1905-'07, a win in this game would have meant

5

in a row for the Bulldogs! 35,000 packed the stands, and more than twice that many requested tickets.

Harvard lost their captain, guard Francis Burr, to a dislocated collarbone in practice before the game, and their chances looked dim. According to legend, Percy Haughton strangled a bulldog during a fiery pregame speech, and Harvard won this game thanks to defense and key contributions from 3 players who had previously been mediocre at best. First there was Ernest Ver Wiebe, who had been struggling as a lineman all year. But a coach commented that he ran more like a back, so Haughton tried him at halfback for this game, and Ver Wiebe ended up doing most of the running in the late first half drive to Yale's 15 that resulted in the winning field goal.

That field goal, giving Harvard the 4-0 win, was kicked by substitute fullback Vic Kennard, a "one tool" player whose only real talent was drop-kicking goals. Later, another "one tool" specialist, Henry Sprague, was sent in to launch a critical punt from Harvard's own end zone, and he uncorked a vital 55 yarder. Such specialists would become a Haughton hallmark.

Yale had a field goal try blocked in the first half, and they were later stopped on downs at the Harvard 15. In the second half, Yale great Ted Coy completed a pass to the Harvard 8, but the pass was ruled just barely illegal, giving the ball to Harvard. In those days, a forward pass had to cross the line of scrimmage within 5 yards of where the ball was snapped (which is why football fields of that time had lines that ran lengthwise down the field, five yards apart-- so referees could gauge adherence to this rule).

This was Harvard's first win over Yale in 7 years, but the tide was a-turning, and Haughton would go
5-2-2 against them in his 9 seasons.

Pennsylvania 1908

| | | |
| --- | --- | --- |
| West Virginia (5-3) | 6-0 | |
| Ursinus (7-3) | 30-0 | |
| Bucknell (3-5-2) | 16-0 | |
| Villanova (1-6) | 11-0 | |
| Penn State (5-5) | 6-0 | (#26-34) |
| Gettysburg (6-2) | 23-4 | |
| Brown (5-3-1) | 12-0 | #12 |
| Carlisle (10-2-1) | 6-6 | #6 |
| at Carnegie | 25-10 | |
| Lafayette (6-2-2) | 34-4 | #20 |
| at Michigan (5-2-1) | 29-0 | #16 |
| Cornell (7-1-1) | 17-4 | #5 |
Pictured above is the great Penn fullback Bill Hollenback carrying the ball.
He and end Hunter Scarlett were consensus All Americans and hall of famers. Hollenback, who captained this team, also played as a freshman on Penn's 1904 national championship team. Scarlett would go on to become a world renowned eye surgeon. Tackle Dexter Draper was consensus AA in 1907, and quarterback Albert Miller was a nonconsensus AA in 1908.

Hollenback would go on to have great success in a 5-year stint as coach of Penn State 1909 and 1911-1914, including 3 unbeaten seasons. Tackle John Macklin would find similar success as coach of Michigan State 1911-1915, going 7-0 in 1913. Macklin was an absolute giant for his time, 6' 7" and 275#.

Penn's coach, Sol Metzger, went a mediocre 69-41-8 in 13 seasons at 7 schools, and was best known as a football writer for newspapers and magazines.

Penn's Season
Like Harvard, Penn won by only a touchdown in their opener, but Penn's game with West Virginia (5-3, would not have been rated) was actually a struggle. Neither team could do anything in a scoreless tie until the last 5 minutes, when Penn hit 2 passes for 60 yards for a touchdown. Then on their next possession Penn drove the length of the field, the game ending with the ball one foot from West Virginia's goal.

Penn also struggled in a 6-0 home win over Penn State (5-5, #26-34), just as the 1904 team had. Penn State would finally break through for a tie with Penn in 1909 with Bill Hollenback as their coach, and Hollenback would go 2-1-1 against his alma mater while at PSU. Penn dominated this game, but constant fumbling on both sides made scoring difficult. A Penn player dropped an easy touchdown pass, leaving the teams scoreless at half. In the end, Penn's touchdown came on a blocked punt from PSU's 10 yard line.

Penn beat 5-3-1 Brown (#12) 12-0 to move to 7-0, but they were then tied by 10-2-1 Carlisle (#6) at home 6-6. Carlisle's Jim Thorpe scored a touchdown and extra point in the second half to draw even with Penn, but he missed 3 field goals, allowing Penn to escape with the tie (and a share of the mythical national championship). Thorpe later singled out Hollenback as the best player he faced in his college career.


Penn played their best football over their last 3 games, starting with a 34-4 win over 6-2-2 Lafayette (#20).

Next up was a highly anticipated game at Michigan, who came in at 5-0-1. Penn's strategy was to devote two players to beating up on Michigan's great center Germany Schulz on every play, finally knocking him out of the game with 10 minutes left. After that, Penn turned a 6-0 lead into a rout, winning 29-0. Hollenback scored 3 touchdowns and Scarlett kicked the extra points. This game, and Schulz's heroic performance in it, grew in legend over the decades, with Penn devoting more players to working over Schulz with each retelling, and by the 1950s the popular belief was that Penn had 5 players doing nothing but piling on Schulz every play. In any case, this big win lost some value when 6-3-1 Syracuse beat Michigan 28-4 the next week. Michigan finished 5-2-1, and I have them ranked #16 for 1908.

That brought Penn to their finale, and like Harvard they were facing an unbeaten-and-once-tied opponent, if not as highly esteemed an opponent as Yale. Cornell came to Franklin field at 7-0-1, having tied 5-0-1 Chicago, and they took a 4-0 lead on a field goal, but after that it was all Penn. A pass to the Cornell 7 set up a Hollenback touchdown for a 6-4 halftime lead, and Albert Miller returned a second half interception 70 yards for a touchdown to ice a 17-4 win in front of 25,000 happy fans. That finished Cornell at 7-1-1, and I have them ranked #5 for 1908.

Chicago 1908
| | | |
| --- | --- | --- |
| Purdue (4-3) | 39-0 | |
| Indiana (3-4) | 29-6 | |
| Illinois (5-1-1) | 11-6 | (#26-34) |
| Minnesota (3-2-1) | 29-0 | #18 |
| Cornell (7-1-1) | 6-6 | #5 |
| at Wisconsin (5-1) | 18-12 | #9 |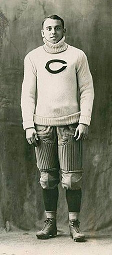 Amos Alonzo Stagg's Chicago Maroons won a retroactively selected national championship for the 1905 season behind the play of quarterback Walter Eckersall, a hall of famer and 2-time consensus All American.
His replacement at quarterback, Walter Steffen (pictured), also a
hall of famer
and consensus All American, led this 1908 team. Steffen was a very good open field runner, totaling 156 points in his 3 years. A much better student than Eckersall, Steffen became a judge in Chicago, and at the same time commuted to Pittsburgh as Carnegie's head coach for 18 seasons. He was extremely successful at Carnegie, eventually building them into a national power out of nowhere and finishing 88-53-6 there against very tough schedules.

Two other players, Harlan Page and John Schommer, were even better basketball players, resulting in 3 straight retroactively selected national championships for Chicago in basketball 1908-1910. Schommer, who earned 12 letters in 4 sports, was a 3-time All American in basketball and is in the basketball hall of fame.

Chicago only played 6 games (compared to 12 for Penn and 10 for Harvard), but they played no patsies, going straight to their 5 conference opponents and 1 Eastern power. On the other hand, they did start with their weakest opponents, beating Purdue 39-0 and Indiana 29-6. Then they struggled to beat 5-1-1 Illinois at home 11-6. Illinois wasn't bad, but they had no wins of value, were tied by Marquette, and were thus not a top 25 caliber opponent (more like #26-34). Illinois held Steffen in check in this game, and their punting and coverage were strong. It was also an unusually hot day for mid-October, and Chicago became exhausted early. Nevertheless, they came away with the win.

Chicago was much sharper in a big 29-0 win over 3-2-1 Minnesota, who was better than their record. In fact, this Minnesota team notched the West's first victory over a major winning Eastern opponent in the 20th century, besting 10-2-1 Carlisle at home 11-6, and I have Minnesota ranked #18 for 1908. Chicago beat the bigger players of Minnesota with speed and finesse, successfully employing forward passes, onside kicks, and end runs on fake kicks.

Next up was a huge game, 6-0 Cornell coming out West to face 4-0 Chicago. In 1907, Chicago had lost 18-4 to visiting Carlisle, but this year they represented the West against the East much better, earning a 6-6 tie in a snowstorm on a triple pass play with 5 minutes left in the game. It had been all Cornell in the first half, scoring their touchdown following a Steffen fumble. Chicago went nowhere. Things changed as the snow piled up in the second half, and Chicago hit big gains throughout the half, culminating in the Steffen-Page-Schommer triple pass touchdown (their basketball skills coming in handy for that one). This tie and Minnesota's win over Carlisle constituted a big step forward for the West against the East (though Michigan's losses to Penn and Syracuse still pushed 1908 in the East's favor). The Chicago crowd, in fact, was as jubilant as they would have been with a victory. Cornell finished 7-1-1 and ranked #5.

Chicago was 4-0-1 coming into their finale at 5-0 Wisconsin. With the Western Conference title on the line, this was the game of the year in the West, though it commanded much less attention than had Penn at Michigan or Cornell at Chicago. Steffen returned the opening kickoff 100 yards for a touchdown. Wisconsin fullback John Wilce, future hall of fame coach at Ohio State, took a pass to the Chicago 1 to set up a tying touchdown. Wisconsin later drove to the Chicago 15, but missed a field goal, and Chicago took over momentum, scoring 2 more touchdowns for an 18-6 halftime lead. John Schommer accounted for a touchdown and 3 extra points.

Chicago continued to roll early in the second half, driving to the Wisconsin 1, but an interception there turned momentum back in Wisconsin's favor. Wilce scored a touchdown to close the gap to 18-12, then Wisconsin drove to the Chicago 15, but they were stopped on downs there, giving the Western championship to Chicago. Wisconsin's offense in this game was built around short passes to a receiver who had 3 Wisconsin players blocking defenders away from him before the catch (legal then). It was a play that Chicago had not seen in their scouting of Wisconsin, and they had trouble solving it. Wisconsin finished 5-1 and ranked #9.
Harvard vs. Penn vs. Chicago in 1908
Here are the significant games for each team in 1908.
The opponent rankings
come from my 1908 top 25, which is based on a hypothetical AP poll (within logical reason of course)
.
Harvard 9-0-1
Pennsylvania 11-0-1
Chicago 5-0-1

| | | |
| --- | --- | --- |
| at Navy (9-2-1) | 6-6 | #8 |
| Brown (5-3-1) | 6-2 | #12 |
| Carlisle (10-2-1) | 17-0 | #6 |
| Dartmouth (6-1-1) | 6-0 | #7 |
| at Yale (7-1-1) | 4-0 | #3 |

| | | |
| --- | --- | --- |
| Penn State (5-5) | 6-0 | (#26-34) |
| Brown (5-3-1) | 12-0 | #12 |
| Carlisle (10-2-1) | 6-6 | #6 |
| Lafayette (6-2-2) | 34-14 | #20 |
| at Michigan (5-2-1) | 29-0 | #16 |
| Cornell (7-1-1) | 17-4 | #5 |

| | | |
| --- | --- | --- |
| Illinois (5-1-1) | 11-6 | (#26-34) |
| Minnesota (3-2-1) | 29-0 | #18 |
| Cornell (7-1-1) | 6-6 | #5 |
| at Wisconsin (5-1) | 18-12 | #9 |

Harvard defeated the rest of their opponents by an average of 19-0, Penn by an average of 19-2, and Chicago by an average of 34-3.


Chicago may have played 6 games to Penn's 12 and Harvard's 10, and maybe that's why they are disregarded as a national championship contender, but Penn and Harvard played the first half of their seasons against patsies, whereas Chicago played all 6 of their games against major teams. As such, Chicago's 5-0-1 straight record is really the same as Penn's 11-0-1 and Harvard's 9-0-1. Had Chicago played 5 patsies to open the season, like Harvard did, they would be 10-0-1, and those games would have better prepared them for the real games ahead, making them a stronger team. Therefore, if anything, playing those extra games was an advantage for Penn and Harvard, not an obstacle.

You may notice that Harvard beat Carlisle 17-0, and Carlisle is the team that tied Penn. And Penn won 17-4 over Cornell, the team that tied Chicago. But I wouldn't read too much into just those games. It's really a common opponents argument, which by itself is a poor way to rate teams. Also, this thinking can go in the other direction too, if less directly. Chicago beat Minnesota 29-0, Minnesota beat Carlisle, and Carlisle tied Penn. And Carlisle beat Navy, the team that tied Harvard.

So let's look at the teams' schedules and performance in an overall sense.

Schedules and Performance
Harvard and Penn each played 5 opponents likely to have finished in a top 25, and Chicago played 3, so Chicago lags in this department. And Harvard's schedule was tougher than Penn's, as their ranked opponents averaged #7.2, Penn's #11.8. Harvard defeated 3 top 10 teams, including #3 Yale, while Penn only defeated 1 opponent that would have finished in a 1908 top 10 (#5 Cornell), as did Chicago (#9 Wisconsin).

So Harvard wins the schedule battle, and in fact those twin wins over Carlisle and Yale are

very

compelling (and the reason they were considered the best team by writers at the time). Penn isn't far behind in schedule toughness, but Chicago is.

It is performance where Penn hopes to gain an advantage. They had 2 close (touchdown or less) wins to Harvard's 4, and they were particularly strong down the stretch, winning their last 4 games by an average of 26-5 (and 3 of them were strong opponents). Chicago also only had 2 close wins, but against a much easier schedule. There is no reason to believe, for example, that Chicago would have done better against Harvard opponents Brown, Dartmouth, or Yale (in fact, history suggests the opposite).

In the same light, Penn did not play as many top ten caliber teams as Harvard either, so their performance "advantage" may not be what it seems. When you account for opponent toughness, the performance difference between Penn and Harvard really just boils down to one game

:

Penn beat Brown 12-0 and Harvard beat them 6-2. But Harvard could have scored more against Brown had they needed to (driving to Brown's 5 to run out the clock). And Harvard's 5-0 opener against Bowdoin was not a struggle at all, whereas Penn's 6-0 opener against West Virginia was. So Penn's performance advantage, if it exists at all, is

very

slight.

East vs. West
Because Chicago played (and tied) #5 Cornell, and Chicago victim Minnesota played (and defeated) #6 Carlisle, we probably don't need to go into much detail on the East vs. West regional strength question to settle the national championship debate. However, it's been a while since I've gone over the numbers (last addessing them in my
1904
article), and we are on the verge of a huge shift in power here, so let's look at the regions again.

To recap where we left off, the East was 4-0 against the West in significant games played 1901-1904, and there were no such games played in 1905.

In 1906, 7-2-3 Penn and 9-3 Carlisle gave Michigan and Minnesota their only losses by identical 17-0 scores, a resounding blow for the East. However, Carlisle was upset at Vanderbilt 4-0 (the East's first significant intersectional loss of the new century), and Vanderbilt was beaten by Michigan, so there was at least a hairline crack in the East's dominance.

In 1907, Eastern teams again gave a pair of Western teams their only loss, Penn beating Michigan 6-0 and Carlisle beating Chicago 18-4. Carlisle also beat Minnesota 12-10. And all 3 games were on the road. So again, clear Eastern dominance. It was once more Vanderbilt that delivered the only blow against the East, tying Navy 6-6. But while that tie was significant (Vanderbilt again lost to Michigan), it is important to note that Vanderbilt was the best team in the South, while Navy was maybe the 12th best team in the East.

As I've already established, 1908 was a breakthrough season for the West with Chicago's tie of Cornell and Minnesota's 11-6 win over Carlisle (albeit both at home), though the demolitions of 5-2-1 Michigan at the hands of Penn (#2) and especially 6-3-1 Syracuse (#14) still put the East on top. But there were a lot more games than those

:

Carlisle beat 7-2-1 Nebraska 37-6, 6-2-2 St. Louis 17-0, and 7-1 Denver 8-4 on an extended tour of good Western teams, and 8-3 Pittsburgh also paid a winning (13 to nil) visit to St. Louis. The East took another loss when 9-1 Western Reserve (of Ohio) beat 10-2-1 Washington & Jefferson (of Pennsylvania) 11-0. Western Reserve lost to Kenyon, who lost to Ohio State, who lost to Michigan. So there's that little trip down a victory chain. But W&J was not one of the top 10 (or 12) teams in the East this season. In all, the East was 6-2-1 in significant games against the West in 1908-- still the best region, but no longer in a complete rout.

And 1908 was not just a lucky year for the West. The Big 10 region would go 4-0-1 against major Eastern teams in 1909, and while 3 of those games were played against losing teams, Michigan finally broke through in a 12-6 win against 7-1-2 Penn, and Notre Dame beat 6-2-1 Pittsburgh, both on the road. Then the Big 10 region went 2-1-1 against major Eastern teams in 1910 (though only the tie, between Michigan and Penn, was a significant game). So we are about to see the power gap between the East and West virtually disappear.
1908 Mythical National Championship Conclusion
I think Harvard's wins over Carlisle and Yale (let alone 6-1-1 Dartmouth) make them a clear choice for #1. 10-2-1 Carlisle played 9 rated or near-rated opponents, and
all on the road
. They beat 5 of those teams by more than a touchdown, including a 16-6 win over 9-2-1 Navy (who tied Harvard). But Harvard beat Carlisle easily, 17-0. As for Yale, 7-1-1 against a tough schedule, well, what more can you say about a team that was coming off 3 straight national championships, and about to do it again in '09, and that featured the nation's best player in Ted Coy? If Yale had beaten Harvard,
they
would be sharing the title with Penn. And Harvard beat them on the road.
Penn's schedule was in the same general range as Harvard's overall, as was their performance, so they certainly merit sharing the national championship with Harvard. But I find it strange that NCAA Records Book selectors retroactively name Penn national champion, while no one selects Harvard to even share the title. This may be because Penn was so impressive scoring-wise down the stretch, but that came against far weaker opposition than Harvard faced over the same month.

I suspect that the modern view mostly comes down to Penn's 29-0 win over Michigan, as that game has only grown in legend and fame over the years. But Michigan lost to 6-3-1 Syracuse 28-4 the next week. And lest you think that's just because Penn softened the Wolverines (and Germany Schulz) up, Michigan was not that impressive even before the Penn game, barely beating a mediocre Ohio State 10-6 and suffering a tie to Michigan State (neither of whom was considered a major team at the time).
Chicago, on the other hand, has a weaker case for sharing the mythical national championship. They had essentially the same record as Harvard and Penn, and while their schedule was not as strong, it was not a weak schedule. Still, their only 3 significant wins (Illinois, Minnesota, and Wisconsin) are of questionable value. Illinois beat no one and was tied by Marquette. Minnesota had one huge win over Carlisle, but they were also tied by Nebraska (whom Carlisle beat 37-6). Wisconsin was 5-1, so for all we know they may have been a top 5 team in ability, but their only wins of value came 5-0 over Minnesota and 9-6 over Marquette.

I think Chicago falls just short here. They needed to beat Cornell rather than tie them, or at least beat another top team (too bad Carlisle did not add Chicago to their 4-game tour of Western schools-- that would do it). Alternatively, if Chicago had beaten Illinois and Wisconsin more easily than they did, their overall performance would be enough for the share too. Still, while I don't see Chicago as a co-national champion (which is fine, because no one else does either), I don't think they'd be a

bad

choice. Speaking of which...
Louisiana State 1908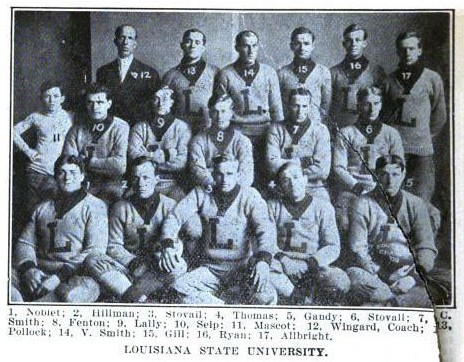 | | | |
| --- | --- | --- |
| New Orleans Gym Club | 41-0 | |
| Jackson Barracks (New Orleans) | 81-5 | |
| Texas A&M (3-5) | 26-0 | |
| Rhodes | 55-0 | |
| at Auburn (6-1) | 10-2 | (#26-34) |
| Mississippi State (3-4) | 50-0 | |
| Baylor (3-5) | 89-0 | |
| Haskell (3-5-1) | 33-0 | |
| at Louisiana Tech (4-3-1) | 22-0 | |
| at Arkansas (5-4) | 36-4 | |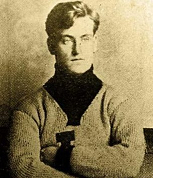 The National Championship Foundation has been the worst selector so far (1901-1907), but they've topped themselves with their selection of 10-0 Louisiana State to share the 1908 title with Penn (but no Harvard! Did they operate completely free of research?). Now yes, LSU had a perfect record, and Harvard, Penn, and Chicago did not, but the problem is that there are half a dozen teams with perfect records every single season (more if you include all of the most minor schools). Kansas, for example, went 9-0 in 1908, and against a more credible schedule (which isn't saying much). The thing is, the 3 contenders discussed above played schedules so far beyond LSU's that it is like comparing FBS teams to a division II team.

LSU was the best team of the South in 1908, though, and they did gain some national recognition for pummeling their (weak) opponents by a combined score of 443-11. Their star was hall of fame quarterback and kicker Doc Fenton (pictured), an offensive machine who scored 132 points in 1908, and 298 points (36 touchdowns) in his 3 seasons 1907-'09. Their coach, Edgar Wingard, was 70-34-5 in his career, his 17-3 stint at LSU 1907-'08 being the highlight. Wingard can be credited with inventing the now-illegal tear away jersey, as he would soak Fenton's woolen game shirts in a mild acid solution to weaken the fabric before each game.

The big game (in fact, to a large degree the only game of merit, rendering LSU an effective 1-0) was at 6-1 Auburn, the second best team in the South by virtue of a 6-0 win over 4-1-3 Sewanee (who tied usual Southern champ Vanderbilt). LSU won that game 10-2 (the closest anyone else got to them was Louisiana Tech, who fell 22-0). But Auburn went ahead and claimed themselves the 1908 Southern Intercollegiate Athletic Association (SIAA) champions anyway.

That is because of an article published by the not-yet-famous Grantland Rice in the Nashville Tennessean that charged LSU with paying 7 ringers to play for them. LSU denied it, but Grantland Rice did not back down, saying that he had proof. Unfortunately, LSU declined to sue for slander, so we'll never know what that "proof" was. 7-1 Tulane subsequently refused to play LSU (not that it would have mattered-- Tulane was weak despite the nice record). After the season, the SIAA investigated LSU and found no wrongdoing.

For my part, I don't care if LSU was "cheating" or not. "Ringers" were as common on rosters in those days as JUCO transfers today, and pretty much every successful school, even the Ivies, had players who were paid and/or who did not bother to attend classes. So let's ignore all that and focus on LSU's "national championship" qualifications.

Why LSU Does Not Merit National Championship Consideration for 1908
LSU does not merit such consideration for the same reason that similar teams like 9-0 Vanderbilt and 10-0 Pittsburgh in 1904 and 11-0 St. Louis in 1906 don't (I covered all 3 of those teams in my 1904 and 1906 articles). LSU's 443-11 romp was all well and good, but Vanderbilt did better in '04, outscoring opponents 474-4 (and beating 7-1 Sewanee 27-0). Pitt '04 won their games 406-5, while St. Louis '06 won by 407-11. And like LSU in '08, they were all just regional powerhouses playing weak schedules-- big fish in small ponds, as they say. No one names any of those other teams national champions, as well they shouldn't.

In 1909, Washington will romp on all their Northwest opponents. In 1910, Colorado will romp on all their Rocky Mountain opponents. It is just not that unusual.

But leaving those sorts of teams aside, the National Championship Foundation has

repeatedly

ignored powerhouse teams that actually accomplished something schedule-wise, like 12-0 Harvard and 9-0 Wisconsin in 1901, 10-0 Nebraska in 1902, 14-0-1 Minnesota in 1903 (who tied NCF "champion" Michigan that year!), 13-0 Minnesota in 1904 (outscored opponents 725-12), 10-0 Yale in 1905, 9-0-1 Yale in 1906 (who tied NCF champion Princeton), and of course Harvard and Chicago in 1908. And yet now they select pond bully LSU to share the title with Penn? It is wholly without sense.


LSU played a 1-game schedule and won 10-2, and over an Auburn team that, while 6-1, we have no reason to see as particularly powerful. Auburn beat Sewanee 6-0, who tied Vanderbilt, who lost 17-6 to a mediocre Ohio State and 24-6 to Michigan. And Michigan was smashed badly by its two Eastern opponents. Sewanee also tied St. Louis, beaten handily at home by both the Eastern teams they played, one of whom was not even top 25. Where is LSU's argument? Because running up the score on 9 patsies just doesn't cut it.
LSU is not even a legitimate

contender

. But to the school's credit, they do not claim this "national championship." Alabama would already have made the banners and rings by now if it were them.
Awards Ceremony
1908 #1:

9-0-1 Harvard alone, or Harvard in a tie with 11-0-1 Penn


National Co-champion:

Penn if Harvard is alone at #1


Contender:

5-0-1 Chicago

These are the awards I have been handing out for each season, except seasons when there are no contenders. For this purpose, what I mean by a contender is a team that I think is very close to being worthy of sharing the national championship. A team that you could make an argument for, even if that argument is weak. But they are teams that I myself do not see as national champions.

I have seen 3 computer ratings for 1908 not listed in the NCAA Records Book, and one of them had LSU #1 (and Auburn #2!). That one also had Carlisle #3, and 9-0-1 Harvard, who beat Carlisle 17-0, was #13 (it also had Harvard ranked behind Yale!). So. Maybe the worst rating system ever. Another system had Harvard #1 and LSU #16 (much closer to the truth, I'm thinking), while the third had Carlisle #1 and Harvard #2.

Grading the Selectors
I have been grading the NCAA Records Book's selectors for each season, and keeping a grade point average, so we can see who is relatively good at selecting national champions and who is not. And although I do not consider computer ratings to be legitimate national championship selectors, I have been including them in this section as well, just for comparison's sake.
I am grading on a scale of 0-5, with 5 being the best.

Billingsley selected Harvard.

Grade:

5

The National Championship Foundation selected Pennsylvania and
Louisiana State
.

Grade: 1



Everyone else selected Pennsylvania.

Grade:

4.2



Grade Averages 1901-1908

:



| | |
| --- | --- |
| 1) Billingsley (math system) | 4.34 |
| 2) Parke Davis | 4.28 |
| 3) Houlgate (math) | 4.2 |
| 4) Helms | 3.9 |
| 5) National Championship Foundation | 3.2 |
Addendum
Most modern sites, such as the College Football Data Warehouse and James Howell's list of all-time scores, count as official a 6-0 win by Harvard over Harvard Law School in 1910. That would give Haughton 1 more win for his career, putting him at 97-17-6, and wikipedia goes along with this number as well. The NCAA, however, does not count that game, as well they shouldn't. Harvard does not count it or list it in their record book either.

It was not a scheduled game. The New York Times described it the following day as an "impromptu football battle" between Harvard and ex-varsity players "recruited from the Harvard Law School." Because they were older and used to different rules, the players for Harvard Law School were allowed to use plays that were illegal by 1908. The game was set for 40 minutes, but when time was up, they played an extra 5 minutes for fun. The NCAA is correct here
:
in no reasonable way is this a game that should be counted.